Pilot Susan Stamats, who was trained by her husband Peter, is a commercial licensed balloon pilot. Susan has been flying the skies in the Cedar Rapids area for over 30 years and has over 2600 hours. She has trained pilots for both private and commercial licenses and is also a dealer for Lindstrand Balloons US.
During the summer months, Susan divides her time between flying the skies of Eastern Iowa and balloon competitions throughout the country.  Ballooning has taken Susan to 22 states, Mexico, France, Poland, Zimbabwe and South Africa.  Her longest flight was one hundred miles, taking four hours.  The flight was prior to the digital age and there were no moving maps, only paper maps and amazingly the chase crew, after traveling 230 miles, was there when the balloon landed.  The highest she's ever flown is 18,500 feet.  She flew over the Continental Divide, over the Rocky Mountains.
Matt Bousselot
Matt, a balloon pilot since 2012, dreamt of all things aeronautical since he was a kid.   Anne, his wife, gave him the gift of flight in a small fixed wing plane and he was hooked.  He took fixed wing pilot lessons for a couple of years, but work and life caused him to delay his dreams.
Like a lot of pilots Matt started learning about ballooning by crewing and in this case crewing for his neighbor Kevin Kamp.  He received his balloon pilot training for both his private and commercial license from Kevin.
Matt, usually flies the Cost Cutters Balloon in the Cedar Rapids area but has his own balloon, a racer called Point After, that he takes to competitions thoughout the United Sates. His entire family is involved, Anne, Matt's wife is his crew chief, and is usually accompanied by their two teenage children Tyler and Laila.  Matt is very good at making dreams come true for others who want the adventure of hot air ballooning.
Chris (Probie) Heidelbauer
Ballooning is a family affair for Chris. He and his entire family have served as Ground Crew for Buzzard's Glory since 2003. Chris's Grandfather, both a fixed-wing and hot-air balloon pilot, was part of the hot-air balloon manufacturing operation at Raven Industries in the 1960s and 1970s.
Chris experienced his first solo-flight on October 4, 2017 and earned his Private Pilot license during a fun fill weekend trip to Louisville, KY. Under Susan's expert guidance he is excited to continue the next phase of his ballooning adventure as he work on his commercial pilot license this year.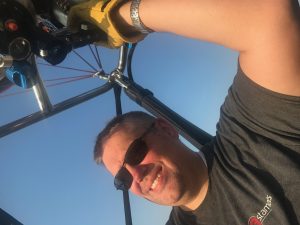 Chris (Nailed It!) Gehrke
Chris started crewing from the day he was born.  His dad, Tom, was crewing for balloonist Rick Filosa and after Rick stopped flying he started crewing for Peter and Susan when Chris was about 4 years old.
He spent many years going to competitions as a teenager and flew with Peter as navigator.  Chris and his wife Erica have five children including multiple teenagers and now there are three generations of Gerhke's crewing for us.
Chris has earned his private pilot certificate and is early in his commercial training and will hopefully get that done here in 2020.  Having five children, a wife, a job and a dog, Lulu, keeps him pretty busy and when he's available Mother Nature doesn't always cooperate.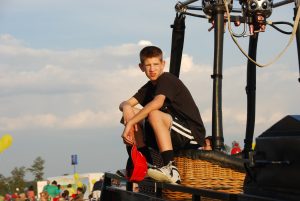 Ryan Heidelbauer (Pilot in Training)
Ryan (call sign Promo Code) started crewing with his dad and older sister when he was 5.  He would rather be ballooning then most anything else.